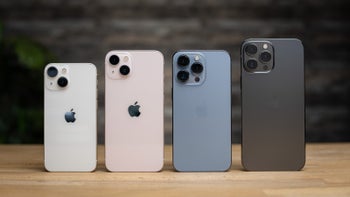 Apple
's 2021 
iPhone 13 series
 are here and they retain the familiar looks of last year's
iPhone 12
family, but offer some very meaningful upgrades on the inside, so there's a lot to be excited about.
From faster performance,
upgraded cameras
(especially on the Pro models), more storage on the base models, there is quite a lot to unpack. But what we focus on here is improved battery life. The biggest beneficiary of that change is the
iPhone 13 Pro Max
, which now qualifies for the title of the longest lasting iPhone ever. Not bad, right? And all the other models, even the mini get some welcome battery life upgrades.
Update:

Official records for the exact iPhone 13 battery sizes have surfaced, and you can find them below.
You may also find useful:
Does iPhone 13 have better battery life?
Yes, the iPhone 13 do have a longer battery life.
We have tested all four phones using three independent battery tests performed at identical conditions and controlled brightness, and below you can see the results for each new iPhone.
iPhone 13 battery test results
As you can see all four iPhones score various improvements in battery life over their predecessors.
Below, you will also find the official iPhone battery life numbers by Apple itself:
iPhone 13 series battery improvements:
iPhone 13 mini delivers 1.5 hours increase over iPhone 12 mini
iPhone 13 delivers 2.5 hours increase over iPhone 12
iPhone 13 Pro delivers 1.5 hours increase over iPhone 12 Pro
iPhone 13 Pro Max delivers 2.5 hours increase over iPhone 12 Pro Max
Yes, this means that the iPhone 13 Pro Max has the longest battery life ever in an iPhone.
Apple is also providing the following estimates for battery life while streaming video:
iPhone 13 Pro Max — 25 hours
iPhone 13 Pro — 20 hours
iPhone 13 — 15 hours
iPhone 13 Mini — 13 hours
iPhone 12 Pro Max — 12 hours
iPhone 12 Pro — 11 hours
iPhone 12 — 11 hours
iPhone 13 Mini — 10 hours
This is super impressive, and we cannot wait to test it. Basically, while streaming video, the iPhone 13 Pro Max has DOUBLE the battery life of its predecessor. Now that's some dark magic!
Apple also provides a few other metrics for battery life like music playback and offline video playback, and the differences there are not quite as dramatic, but there is obviously a lot to test in the future and in some aspects, the iPhone 13 family really has a huge battery boost.
How much battery does the iPhone 13 have?
Teardowns reveal the battery capacity on iPhone 13 / mini / Pro and Pro Max
Apple has included larger batteries across the iPhone 13 compared to last year's iPhone 12 series.
The company does not provide the battery capacity numbers on its website, but teardowns of the reveal the exact numbers for each model.
Interestingly, the iPhone 13 has a larger battery than the Pro model, plus if you are wondering which phone has the biggest battery increase, that would be the iPhone 13 Pro Max. The iPhone 13 mini is also getting a nearly 10% battery boost over the 12 mini.
Here is the exact battery capacity on each iPhone 13 model:
iPhone battery capacity
iPhone 13
iPhone 12
% difference

iPhone 13 mini

battery capacity
2,406 mAh
2,227 mAh
+9%

iPhone 13

battery capacity
3,227 mAh
2,815 mAh
+15%

iPhone 13 Pro

battery capacity
3,095 mAh
2,815 mAh
+11%

iPhone 13 Pro Max

battery capacity
4,352 mAh
3,687 mAh
+19%
Obviously, the sheer size of each phone contributes to different possibilities for battery upgrade, but those are some pretty solid numbers across the board.
Does this mean we needn't worry about iPhone 13 battery drain?
All iPhone 13 models have improved battery life. Whether or not those phones have any battery drain issues is yet to be tested, but so far there haven't been such reports.
Apple officially says these iPhones have an "all-day battery life", whatever that means.
Does the iPhone 13 have reverse wireless charging? 
The iPhone 13 does not officially offer a feature called reverse
wireless charging
. That feature is common on Android flagships where the phone can act as a battery bank and charge up other gadgets like a smartwatch or
wireless headphones
. The iPhone 13 series cannot do that.
Does iPhone 13 have MagSafe?
The iPhone 13 comes with MagSafe wireless charging. Thanks to magnets placed in a circle on the back of the iPhone, the phone can snap tightly to compatible chargers and maximize wireless charging efficiency.
The actual power and shape of the magnets has remained the same as on the iPhone 12 series, and so has the top charging speed of MagSafe, which remains at up to 15W. Keep in mind that to get that maximum speed you need to have a compatible
MagSafe charger
.
What charger does the iPhone 13 use?
The iPhone 13 series supports 20W charging, just like the iPhone 12 family. Unfortunately, there is no charger included in the box. The phones only come with a Type C to Type C cable included, but no charging brick.
You can find out more about the batteries of all iPhone 13 models in our full reviews and additional coverage.