Apple's next big update for a billion-plus iPhones is iOS 15. A beta for developers was made available on the first day of WWDC, June 7, 2021. The beta was then expanded to public beta testers in its second release, on June 30, 2021. And Apple launched iOS 15 on Monday, September 20.
This page collects all our major articles about iOS 15: FAQs and feature guides, how-tos, tips, updates, and news. It's your one-stop shop for all the iOS 15 related content on Macworld. We'll continue to update this page as we post more iOS 15-related news, how-tos, and updates.
iOS 15: The latest news
September 29: Apple released the second iOS 15.1 beta to developers. It includes SharePlay and vaccination cards in Wallet as well as a fix for the Unlock with Apple Watch iPhone 13 bug.
iOS 15: Everything new
What's new in iOS 15? As usual, the big new iPhone operating system update comes with lots of new features, design changes, and improvements. We've compiled a list of all the big new features in iOS 15.
iOS 15: How to update (and if you should)
Now that iOS 15 has been released, all you have to do to update is open the Settings app, tap General, then Software Update. We also have an article with the full release notes, and another that weighs the pros and cons of updating right away or waiting.
iOS 15: Delayed features
A number of iOS 15 features will not be ready yet when iOS 15 first rolls out to the general public. SharePlay, Legacy Contacts, CSAM scanning, and Universal Control are all rolling out in an update later this year. We have a guide to iOS 15's delayed features to keep you up to date on what's coming and when.
The marquee features of iOS 15 are great, but there are just as many super-cool hidden features that Apple didn't tell us about. Here are the best ones we've found so far.
iOS 15: Known bugs
Every iOS release brings its share of bugs. Here's what users have reported in iOS 15 so far:
Apple Music library: iPhone 13 users are unable to access their music library. FIXED in iPhone 13 update
Home screen widgets: iPhone 13 users are unable to customize widgets. FIXED in iPhone 13 update
Unlock with Apple Watch: Some iPhone 13 users aren't able to unlock their iPhone using their Apple Watch while wearing a mask. FIX coming in iOS 15.1
---
Further reading
Every new feature and how to install iOS 15.
Should you update now or wait?
---
iOS15: Get to know the latest features
Safari
Apple constantly improves its Safari browser, but iOS 15 is the first time in a long time that it will actually have a substantially new interface. When you first visit a website after upgrading to iOS 15, it's going to be a shock (and a lot of people aren't going to like it). Learn how to use the radically new Safari browser in iOS 15. Fortunately, if you want to move the address bar back to the top like it used to be, you can do that. Follow our guide to learn how.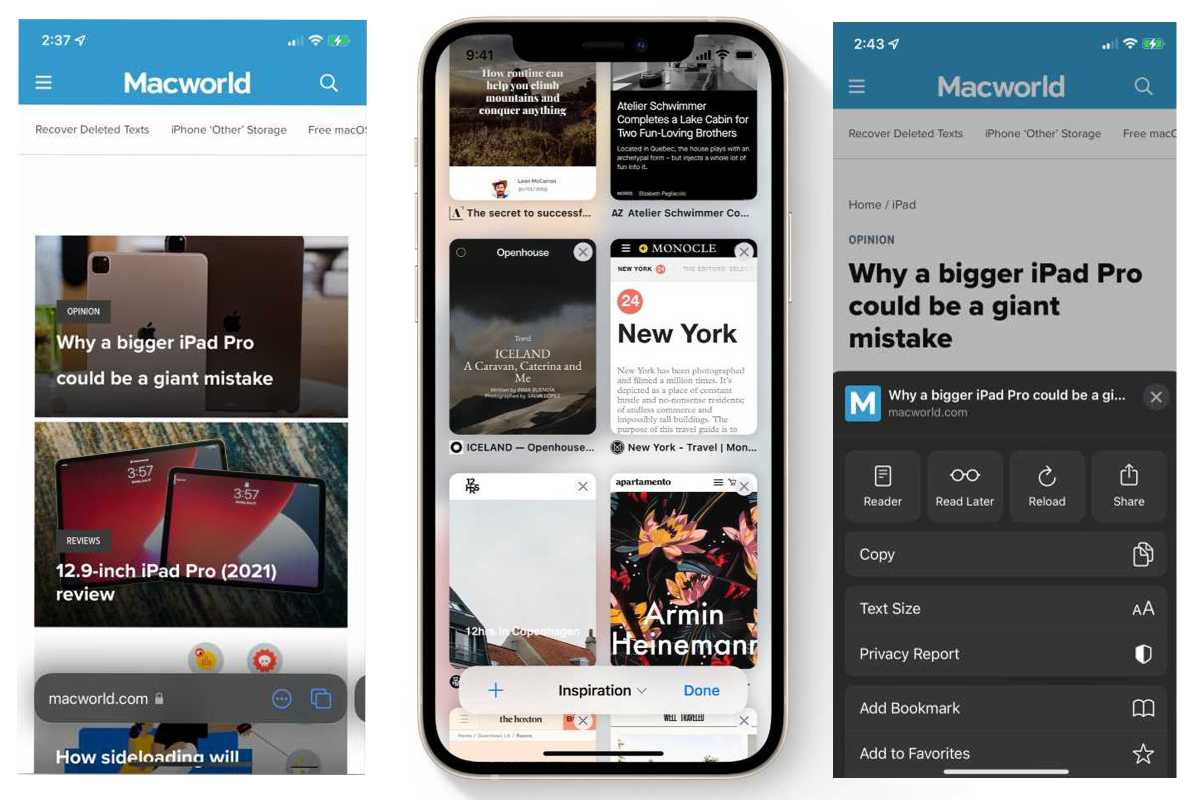 IDG
Notification Summary
New to iOS 15 are some great new features meant to reduce distractions and keep your phone from always nagging you to pick it up. One of the best is a new Notification Summary tool that bundles up notifications that aren't time-sensitive and delivers them at the time of your choosing. Learn how to use the new Notification Summary feature here.
FaceTime links
Once limited to Apple only devices, you'll have the ability to share links to FaceTime calls with Android or Windows users, who can join on the web. FaceTime links can be used to get everyone on board at a future date, too. Learn all about the new FaceTime Links and how to talk to Android or Windows users.
IDG
Focus modes
Another great tool to help you avoid unwanted distractions is Focus. With Focus you can set your iPhone (and iPad, Mac, and Apple Watch) into a customized "mode" that silences interruptions from all but the people and apps you determine, and can even display or hide specific home screens. Set up Focus modes for working, driving, sleeping, gaming, whatever… you can even set triggers to turn them on or off automatically. Learn all about how to use Focus and how to let calls and messages from important people through.
Siri offline
One of the great annoyances of the iPhone is that you need an internet connection to use Siri. With iOS 15, that's finally changing! Siri will process your voice and do many of your requests entirely offline. Launching apps, changing settings, turning on the flashlight, setting timers, adjusting music playback, and much more will work even in airplane mode. This on-device processing also makes Siri much faster. Learn more about Siri offline processing here.
Live Text
With iOS 15 you can select text in pictures, and interact with it the way you do throughout the system: copy and paste, look up definitions, call phone numbers, look up addresses in Maps, and so on. In works in the Camera app, Photos, and even on images in Safari. Learn how to use Live Text here.
Shared with You
In iOS 15, the links and content that people send you in Messages will automatically appear in the associated apps in a new "Shared with You" section. So instead of having to go to Messages, find the thread, and scroll back to find that link someone sent you, you'll find web links right in Safari, images in Photos, Apple Music links will be in Music, TV app content in the TV app, and so on. Here's how Shared with You works.
How to scan text almost anywhere
With iOS 15 you can use your camera to scan and copy text into almost any text input field! It's essentially a new option to go along with cut and paste…now it's cut, paste, and scan. Our guide to scanning text in iOS 15 shows you how.
Translate text in almost any app
Apple has finally built translation right into the operating system, which means you can translate text in almost any app that lets you select text. You can even download language packs and do the translation entirely offline, if you want. Check out our feature on how to translate text with iOS 15.
iOS 15.1
I have written professionally about technology for my entire adult professional life – over 20 years. I like to figure out how complicated technology works and explain it in a way anyone can understand.